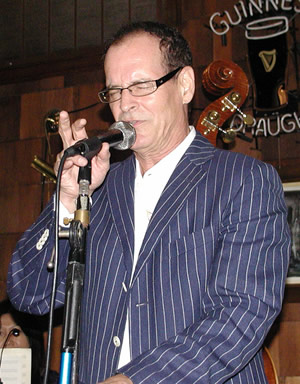 Frank Noviello, is a true jazz vocalist adhering to a tradition of swing and spontaneous performance.
Frank was born in Englewood, New Jersey.  He began studying  voice and drama at age five.  During childhood, he appeared in several  off-Broadway productions including Macbeth, and was an understudy in the Broadway play Fanny.  He appeared at Carnegie Hall at age seven as part of a Star Time Revue production.
Frank was awarded a Bachelor of Music degree from the prestigious  Jazz  program at William Patterson University.  He has studied with Rufus Reid, Norman Simmons, and David Berger.
Frank s formative years as a jazz vocalist were spent in Milwaukee  where he made numerous concert, festival, club, and television  appearances.  Highlights of the period include performances at the Milwaukee Summerfest Music Festival as well as concert  work with the legendary pianist Buddy Montgomery.   He was also a featured artist on Wisconsin PBS.
Since returning to the New York area, Frank has performed and recorded with many of the areas world class jazz players.  He has  appeared at such notable jazz venues as Birdland, Village Gate, Shanghai  Jazz, Kitano and the Blue Note.  Festival appearances include featured  vocalist for the Dewer's Greenwich Village Jazz Festival program  "An  Evening of Song" and the Jersey Jazz Festival.
Frank has been well received by critics for his recording and live performance work.  In a recent review, Jazz Critic Zan Stewart of the   Star Ledger called him "….that rare bird, a true jazz singer…he swings with vibrant rhythm, surprising you…he scats with vitality, invention and snap. Stewart went on to say, he can sing a ballad with heart, making a believer out of you.  Noted jazz critic and author Bill Milkowski in a review for the Milwaukee Journal said of Frank, "He is constantly climbing out on a limb  with his singing style, challenging himself and his listeners by daring to do things spontaneously."
Frank's most recent CD is a duo recording with pianist Tomoko Ohno titled "Jilted".  Reviewer Joe Lang writing in the Jersey Jazz Journal said … "His grainy baritone and jazz sensitivity give vocalist Frank Noviello a unique sound…Noviello's singular sound and inventive phrasing are wonderfully complemented by Ohno's imaginative accompaniment."
Frank Noviello can be reached at 201 675-7567 and jazzbo47@optonline.net.  His website is www.franknoviello.com